Luzo Auto Center Truck Accessories Showroom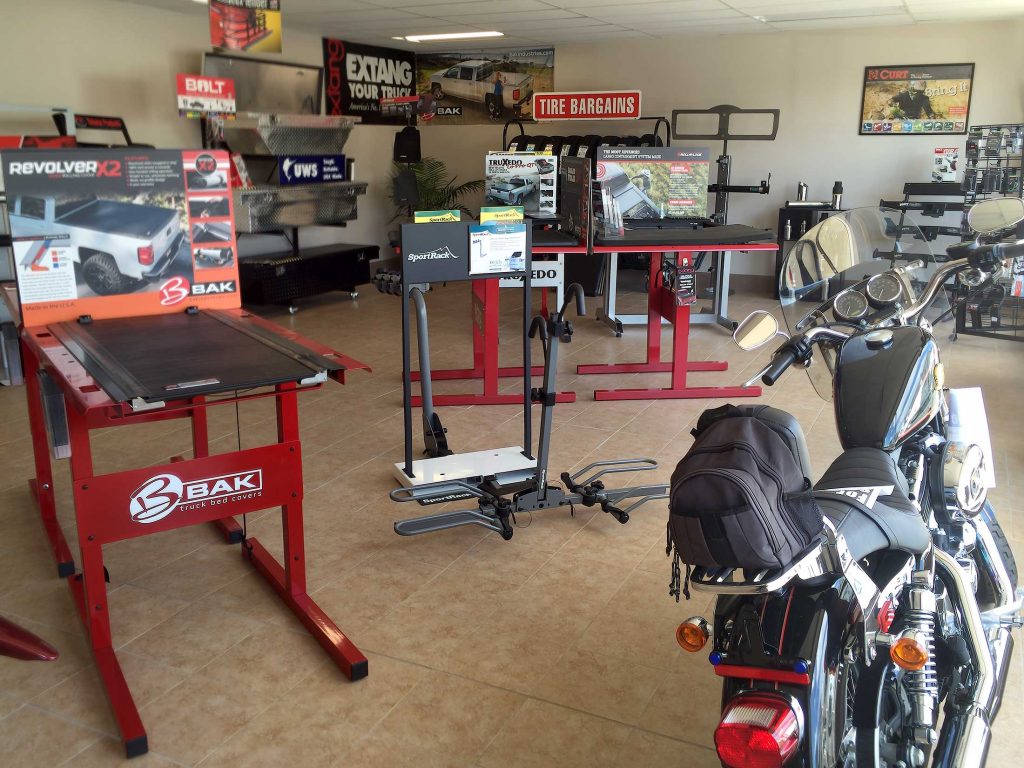 Luzo Auto Center has opened a showroom with the latest in truck accessories. These products will enhance the usability of your truck, make your work easier, and improve the looks of your truck. For the working man, these accessories are a must have.
Tonneau Covers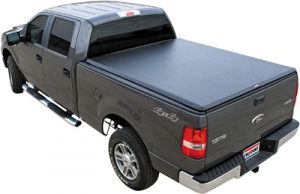 Tonneau covers are the perfect complement to pickup trucks, thanks to their added security and style. The question isn't whether you need a tonneau cover, but what kind of truck bed cover best suits your needs. First and foremost, bed covers keep your cargo away from the weather and would-be thieves. But, they're also the perfect way to upgrade your truck's look, increase gas mileage and protect your payload. AutoAnything offers an impressive collection of hard and soft tonneau covers in a variety of categories including roll-up, folding, retractable and hinged.
We have a huge selection of tonneau covers for all types of trucks. If you're not sure where to start, visit our showroom. Here you can find everything you need to know for choosing the right truck bed cover for your pickup.
BAK – back flip
Retrax
Extang
Truxedo
Access
Undercover
Bedliners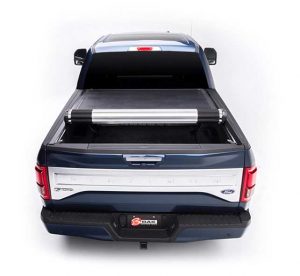 So you just purchased your new pickup truck and you intend to do some seriously heavy duty hauling. You passed on purchasing the WeatherTech TechLiner because you really have your mind set on a "drop-in" bed liner for the full protection you feel you need, but wait! Did you consider protecting the bed of your truck from the ravages of the rigid bed liner rubbing against the painted surface?
Introducing UnderLiner – digitally designed to perfectly match the contours of your specific pickup truck bed. WeatherTech UnderLiner provides added protection by creating a .065″ thick semi-soft protective barrier between the rigid drop-in bed liner and the painted surface of your truck bed.
Toolboxes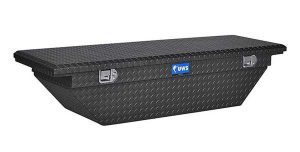 Dedicated to professional workers and tradesmen, a complete assortment of commercial storage and carrier solutions at a great value. For the workman looking for tough, well-built storage and carrying solutions, that are as hard-working as you are. Tough. Reliable. USA Made.
UWS – top sider box
DeeZee
Delta
Weatherguard
TrailFX
Rainguards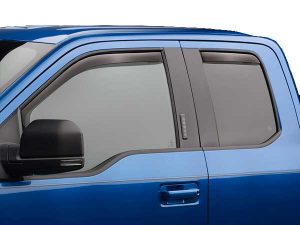 Side Window Deflectors are custom fit, in-window-channel, rain and debris guards that allow fresh air to enter and leave the vehicle while having the window still cracked during harsh climates. Side Window Deflectors also help reduce wind noise and allow interior heat to escape.
AVS
WeatherTech
Stampede
Putco
 Bug Shields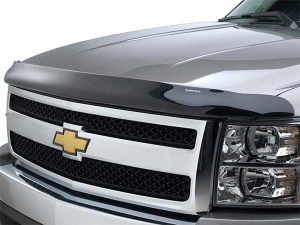 Stone and Bug Deflector is a sleek and low profile custom fit rock and bug shield that protects the hood of your car, truck, SUV or minivan. Made from aerospace-grade acrylic, it's virtually indestructible and scratch resistant.
Fender Flares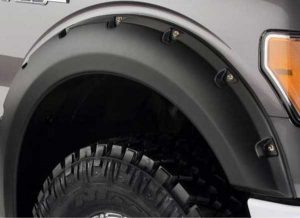 Need to protect your investment from the wear and tear of your hardcore lifestyle? Look no further friend because a new set of fender flares is going to be right up your alley. Fender flares come in many different varieties and each has its own distinctive look and purpose. All fender flares ship for free courtesy of RealTruck.
Bushwacker
EGR
LUND
Stampede
Xenon
Nerf Bars/Running Boards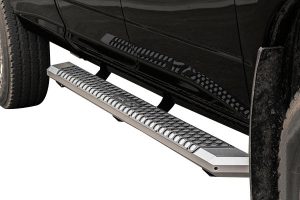 Step right up and discover the best selection of running boards, nerf bars and side tubes on the web. Nerf bars, side tubes and running boards are sure to give a boost to tired legs and your vehicle's looks, too. That's right, nerf bars and running boards sure look cool, and they do give a welcome step to hard-worked legs. And with countless nerf bars & running boards reviews to read, you'll discover real experiences from real customers like you.
Country
Aries
AMP Research
DeeZee
Go Rhino
Lund
Owens
TrailFX
Westin
Trailer Hitches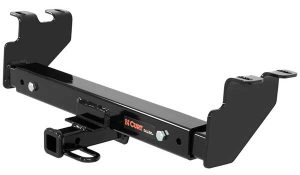 CURT trailer hitches begin their journey in the minds our talented engineers. New vehicles are brought into our engineering bays for evaluation and research. Then, sophisticated design software, engineering craftsmanship and quality steel are combined to make design prototypes that perfectly fit the vehicle. Prototypes that meet all design criteria are evaluated in CURT's state-of-the-art testing facility, ensuring that they meet or exceed all industry standards and meet the quality and durability standards that our customers demand. Our tested and validated designs are then ready to move on to production.
Curt Mfg
Hidden Hitch
DrawTite
Reese
Seat Covers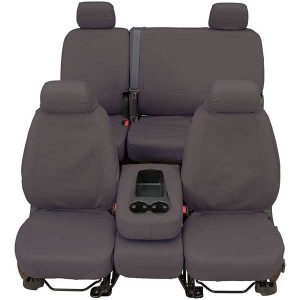 These aren't just custom seat covers, they're custom seat PROTECTORS! Patterned to fit your vehicle specifically, they slip on to provide protection from sun, dirt, daily driving and extreme working conditions. Custom Patterned Seat Cover
Easy to install and remove and machine washable.
FIA
Coverking
Plasticolor
Floor Mats/Liners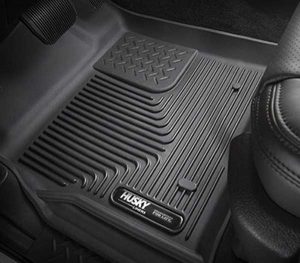 The Husky Liners® X-act Contour® perfectly matches the contours of your truck or SUV and brings together indestructible strength with a soft, comfortable cushion. Add to that a premium look and our exclusive features and you've got liner gold. Punch it, slap it, flick it, kick it. Can you feel it? So come on, get those truck floor mats you've always wanted.
Roof Racks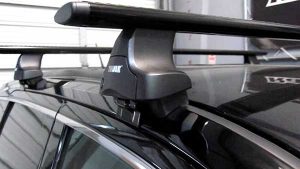 Thule car roof racks are complete systems for transporting your gear safely, easily, and even stylishly. Let us help you find the ideal roof rack. Adjustable, versatile, and aerodynamic, Thule truck racks take your truck's cargo capacity to a new level. Let us recommend the ideal truck rack. Let roof bars from Thule carry the load. Whether it's heavy or light cargo, our roof rack cross bars always guarantee safety, security, and style. Choose Thule roof rack accessories for extra security and versatility. Whether it's locking or loading, we'll help you find the best accessory.
Ladder Racks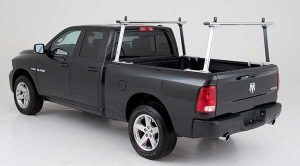 For a rack that changes size to match your supplies, choose the TracRac Sliding Truck Bed Rack. The truth is, most truck owners live in two worlds—on the job during the week, outdoor-loving adventure addicts come play time. The TracRac handles both with ease. With adjustable side rails that slide to suit any situation, the TracRac does it all from trucking timber to carrying kayaks.
Your TracRac sliding rack system is manufactured from lightweight aluminum, so it's easy to maneuver. What's more, the modular design makes it a breeze to take on and off—perfect for multiple trucks. And, aerodynamic, bullet-shaped crossbars with built-in wind deflectors reduce drag and road noise. Meanwhile, your gear stays secured thanks to heavy-duty load stops and adjustable tie-downs.
Don't let the feather weight fool you, it's capable of carrying an astounding 1,250 lbs of gear. On top of that, your TracRac is finished with a dual-stage powder coat for years of rust-free hauling. And, the TracRac aluminum truck rack installs easily on most models side rails without drilling. Best of all, your TracRac is backed by a limited Lifetime Warranty.
TracRac
Backrack
Cross Tread
DeeZee
Kargo Master
Weatherguard